FAQ
Frequently Asked Questions
Who is Vital Supply Store?
Vital Supply Store is a USA based company located in Phoenix, Arizona. We are creating jobs here in the United States by maintaining our Management Team, Customer Service Team, Marketing Team, & our Product Design & R&D Teams locally based. 

Our founders have been in the ecommerce retail business for 10+ years, while VitalSupplyStore.com has been in operation for 4 years.  We have supplied masks and various PPE to over 500,000 customers, including Fortune 500 companies, medical professionals, hospitals, non-profits, schools, and charities.

We operate our business like a family, and we treat our customers the same!  If you have a problem, we will be here to help.  If a mask does fit to your liking, we will be here to help.  If you need anything at all, we will be here to help.
How Can I Tell If A KN95 Mask Is Authentic?
A challenge that many consumers encounter is determining the authenticity of KN95 masks for sale online. Unfortunately, many retailers are still selling counterfeit KN95 and N95 masks online. 
To safeguard your purchase (and ensure your safety), there are a few ways to determine if the available KN95 masks are authentic.
Authentic KN95 Masks are:
Stamped with the code GB2626-2019 which confirms that it was manufactured according to China's respirator standards
Enclosed in tamper-resistant packaging
Packaged with an expiration date
Can I Wash My KN95 Mask?
KN95 masks should not be washed. Cloth masks can be washed after use or if soiled, but KN95s are designed to be used for shorter durations. When KN95 masks become soiled, they should be discarded instead of washed.
Washing your KN95 mask by hand or machine will damage the specially designed fabric layers and reduce its effectiveness at filtrating harmful particles. Even spraying your KN95 mask with disinfectant or wiping it down with alcohol wipes can cause damage to the filtration layers.
Microwaving is another method that should never be used to sanitize your KN95 masks. Not only does this method damage the mask, it may also cause personal injury and property damage. If microwaved, the mask's aluminum nose bridge could cause a spark that ignites the fabric and starts a fire.
The most reliable and effective way to sanitize your used (but unsoiled) KN95 mask is to simply hang it in a dry location for 24-48 hours. Then you can continue to rotate your KN95 masks until it's time to discard them.
When Should I Discard And Replace My Used KN95 Mask?
Although KN95 masks cannot be washed for continuous reuse, they can be used more than once. However, KN95 masks do lose their effectiveness over time and in certain situations.
If you're unsure when to discard and replace your KN95 mask, here are a few of the signs:
Your KN95's ear straps are so loose that the mask no longer fits snugly over your nose, mouth and chin
Your KN95 mask becomes damp or wet
Your KN95 mask is visibly soiled or stained
Your KN95 mask's fabric is torn, frayed or damaged
All of these signs indicate that a KN95 mask has dutifully served its intended purpose. Now it's time to discard the well-used mask and add a new one to your rotation.
Does a KN95 Mask Have An Expiration Date?
KN95 masks have an expiration date, just like vaccines, testing kits and other tools used in the fight against COVID-19 and its variants.

Over time, the elasticity of the ear loops degrades. Even though a KN95 is unopened and unused, the ear loops may not provide a tight fit if they're beyond the expiration date.
The expiration date also serves as an identifier of the mask's legitimacy. Only authentic KN95 masks are manufactured with an expiration date. If an expiration date is missing from the packaging, then it's a clear sign that the mask is inauthentic—and ineffective.

And remember, an unexpired KN95 mask's lifespan also depends on proper storage and handling as described above.
How Can I Extend The Use Of My KN95 Mask?
Every time you use a KN95 mask, its lifespan decreases. Yet, there are steps you can take to maximize the use of your masks.
#1. Handle the ear loops gently
It's time to discard a mask when loose ear loops cause poor fitting. To help prevent your ear loops from loosening too quickly, do not remove your mask by roughly tugging the mask from the nose and mouth piece. This causes the ear loops to stretch too far, so the mask starts to slip and the fit is compromised.
Instead, you should remove the mask by holding the edge of the chin area with one hand while gently removing the loop from one ear. Then, with your hand still holding the mask's chin edge, gently remove the second loop from the other ear. Using this method helps retain the elasticity of the ear loops, ensures a proper fit and extends the life of your mask.
#2. Avoid touching the center of the mask
Another way to extend the lifespan of your KN95 mask is proper handling. To reduce the risk of damaging or soiling your KN95 mask, avoid touching the nose or mouth areas. This is especially important when wearing the mask.
When dirty hands come into contact with the front of the mask, they can degrade its effectiveness. Handling the mask by the edges or the loops helps reduce the risk of soiling or contaminating the exterior and interior of the nose and mouth areas.
#3. Store the mask properly
As we previously mentioned, storing your used mask in a dry place after use sanitizes it and extends its life. While it's easy to find an appropriate spot at home, it's a bit more challenging when you're on the road or at work.
Tossing your used mask on a desk, car seat or any other unsanitary surface is a surefire way to damage, soil and contaminate your mask. When a cool dry location isn't available, you should store your used mask in a brown paper sandwich bag until you return home. This storage solution helps keep your mask clean, prevents it from contacting unsanitary surfaces, and minimizes the risk of damage.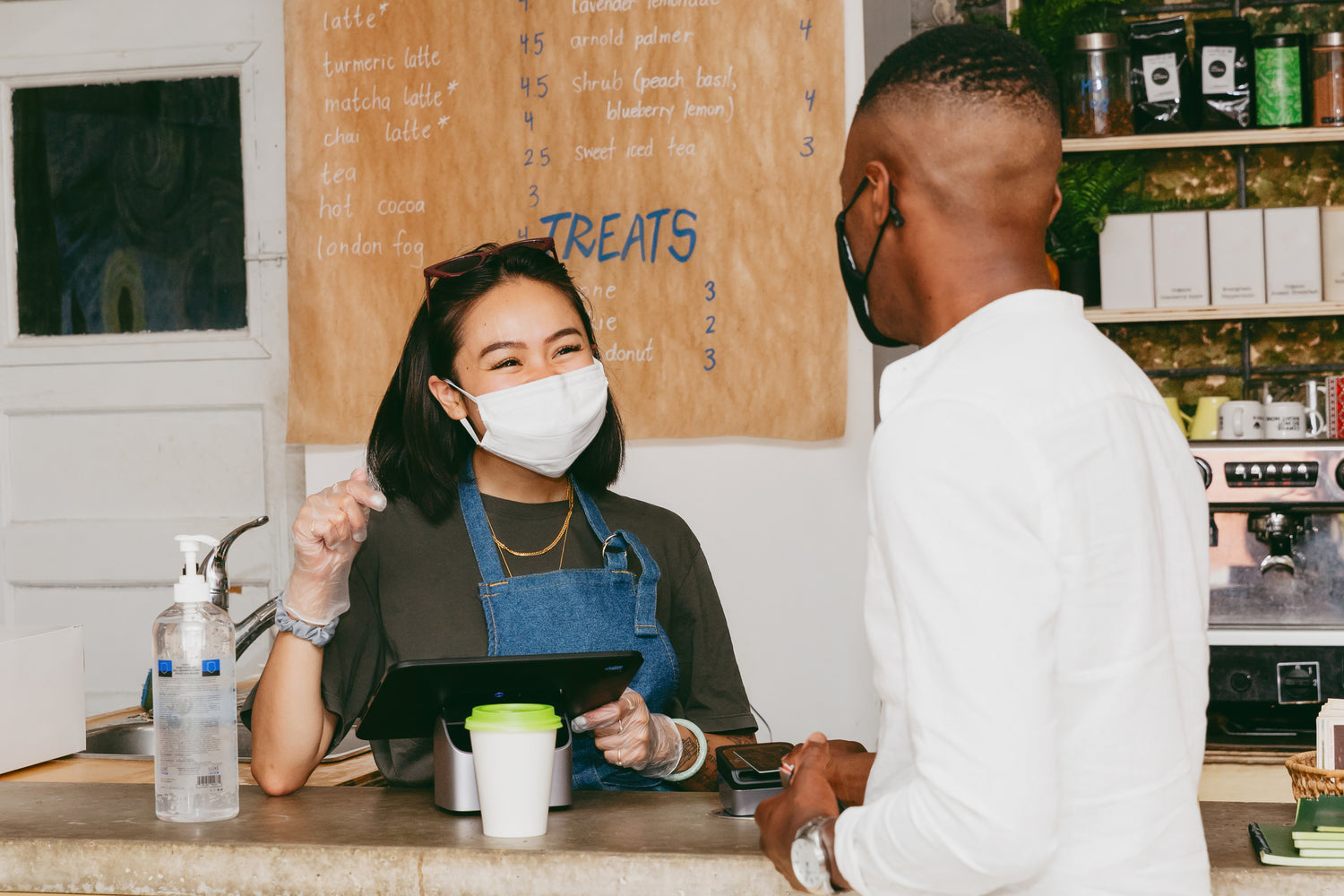 Ready to Order?
Shop from our wide selection of masks. All orders ship from our Phoenix based warehouse within 24 hours and are delivered straight to your door. Stay home and shop with Vital Supply Store!
Buy Now