KN95 Masks with Adjustable Ear Loops - XL to Small Sizes
Regular price
$39.99
Sale price
$34.99
Unit price
per
Sale
Sold out
Looking For a Quality Face Mask That Does

Not

Pull On Your Ears?
This is the perfect face mask for people who:
Experience discomfort due to mask ear loops pulling on their ears

Want to customize the fit and comfort of the mask to their personal 

preference

Prefer longer ear loops
The adjustable ear loop piece is small enough that you cannot feel it, however it is also strong enough to stay in place once you set it.  
 We realize that not all heads & faces are the same, which is why we offer the largest selection of KN95 masks in different sizes.
Large and Extra Large KN95 masks are ideal for our customers with big heads or beards!
If you are tired of ear loops pulling on your ears - Upgrade to Adjustable Ear Loops and customize the fit of your mask.
We have five mask sizes to choose from:
Extra Large KN95 Masks / XL KN95 Masks
Large KN95 Masks
Medium KN95 Masks
Small KN95 Masks
Extra Small KN95 Masks 
Constructed with 5-layers of high quality fabric, our KN95 masks provide comfort and a good seal.
⬇️ Please Review The Sizing Information Below To Help You Select The Best Size Mask! ⬇️
Sizing

Choose from five adult KN95 mask sizes: Extra Small, Small, Medium, Large, or Extra Large.

We also have a Kn95 mask for kids available.

Note: The measurements stated are from top to bottom and from side to side (with the mask closed - not open)

KN95 Extra Large Masks: 

Measures 6.8" (top to bottom) x 4.5" (wide - when folded closed). Our XL mask has the longest profile from top to bottom and are great for those with longer or bigger faces, and those with beards. The length of the XL mask helps to minimize the chin from popping out from the bottom of the mask. THIS IS THE LARGEST KN95 MASK ON THE MARKET!

KN95 Large Masks:  6.2" (top to bottom) x 5.4" (wide - when folded closed). Our Large size mask has a different construction style than other masks on the market. The ear loops are positioned closer to the ears, reducing discomfort on your ears from the ear loop. If you have an oversized face/head, this mask is for you! THIS IS OUR STAFF SELECTION FOR MOST COMFORATBLE KN95 MASK!

KN95 Medium Masks: 6.3" (top to bottom) x 4.2" (wide - when folded closed). This is a standard size mask and is perfect for standard sized faces. This size matches most other KN95 masks sold elsewhere.  Our medium mask is the perfect mask for most people.

KN95 Small Size Masks: 5.7" (top to bottom) x 4" (wide - when folded closed). The small size is slightly smaller than the medium masks. The small size is perfect for people who struggle to find a mask small enough to fit their faces!

KN95 Extra Small Size: 5.5" (top to bottom) x 3.9" (wide - when folded closed). The Extra Small masks are for very petite people with smaller face and head size.

Kids KN95 Mask: 5.5" x 3.9". The kids kn95 mask is the same size as the extra small mask. The suggested age range for this mask is 7-13.

If you are still unsure which mask size to select, we offer mask sample kits. This allows you to try a mask in two sizes, before you commit to a larger order. The sample masks can be found via this link: Sample Mask Kit
Features

KN95 Mask Features:

• Soft padded nose seal provides exceptional comfort and fit around the nose

• Optional Adjustable Ear Loops, which help lessen pulling on your ears.

• Two latex-free ear straps

• The masks meet the GB2626-2019 standard for KN95 production. In addition, our KN95 masks are construction by using 5 layers of non-woven melt blown fabric.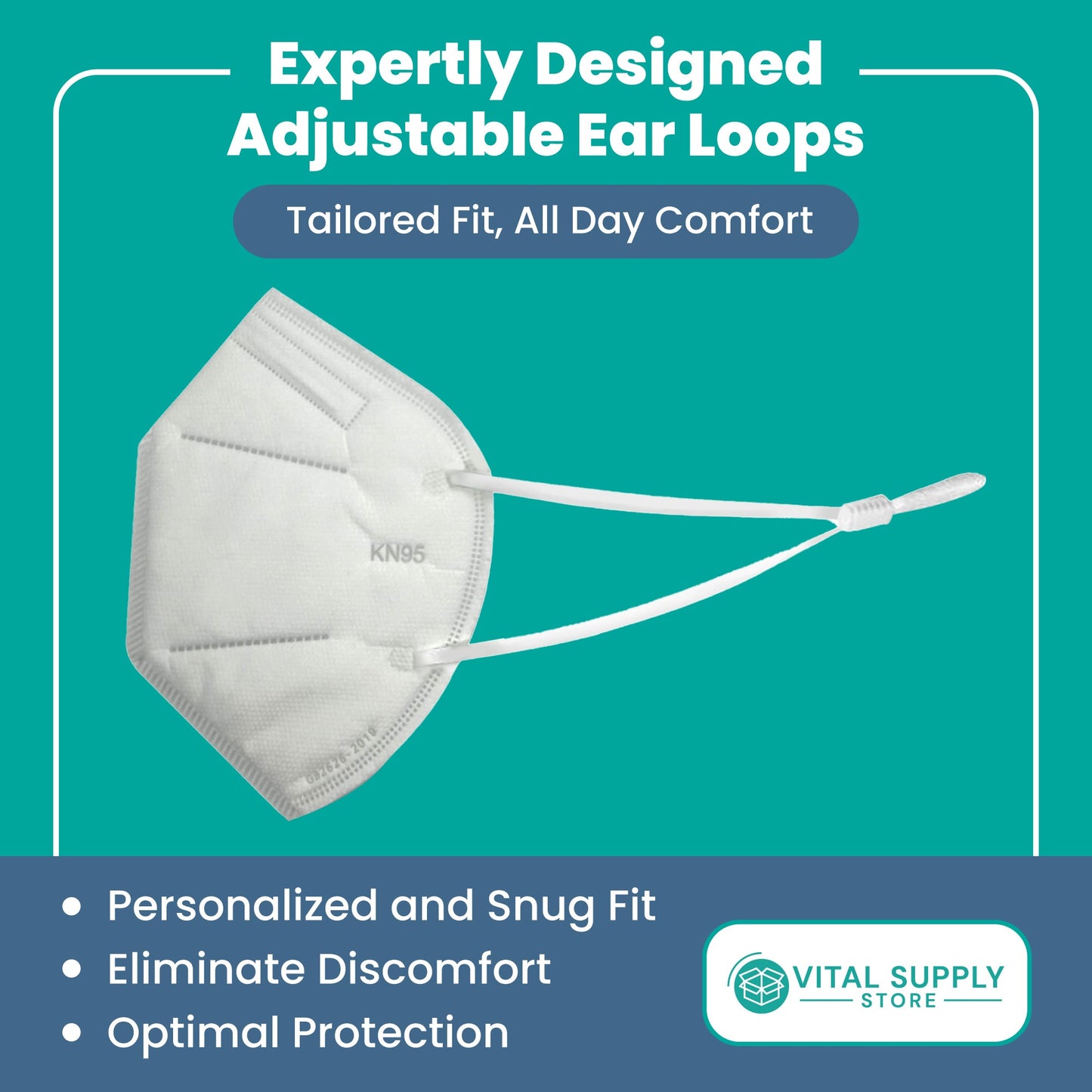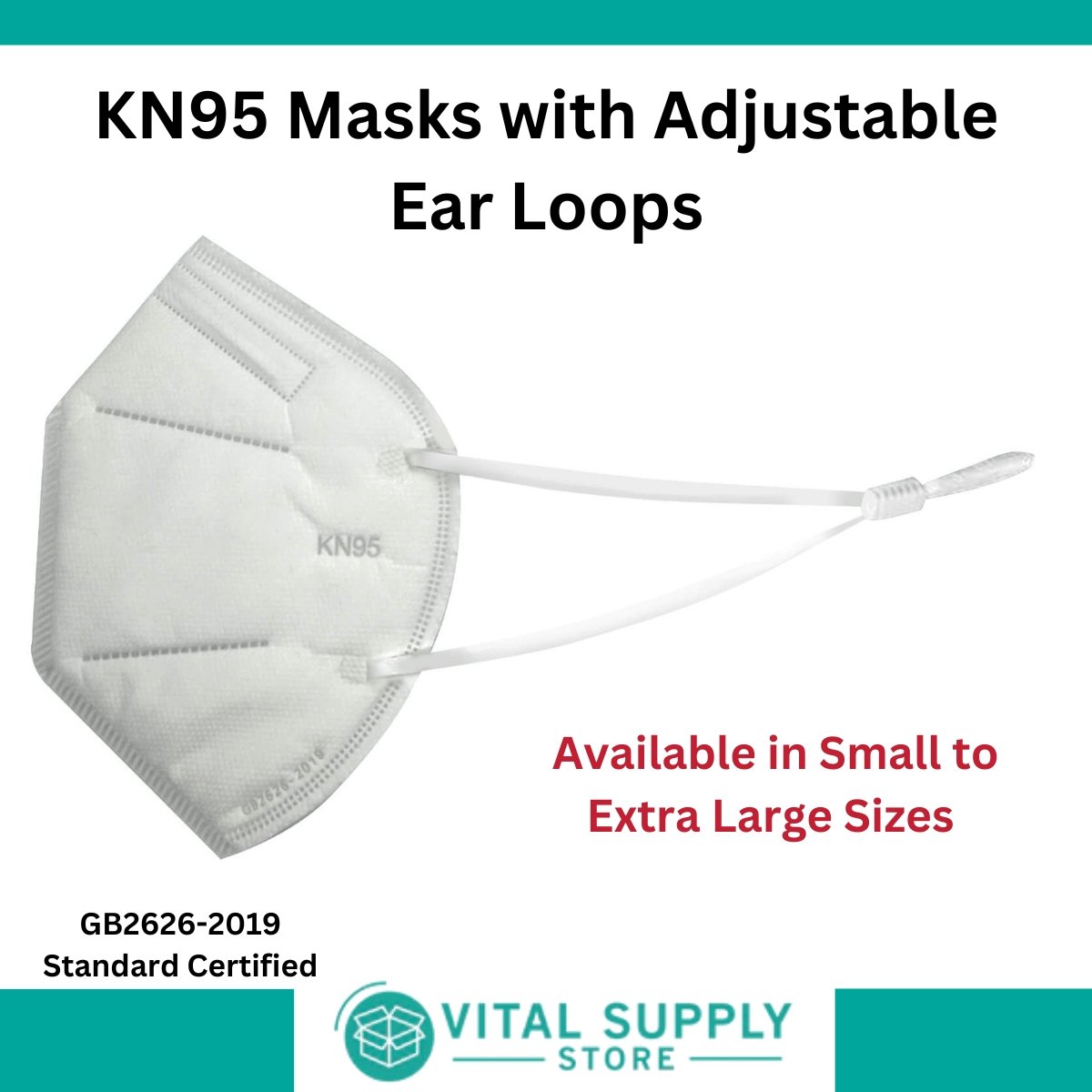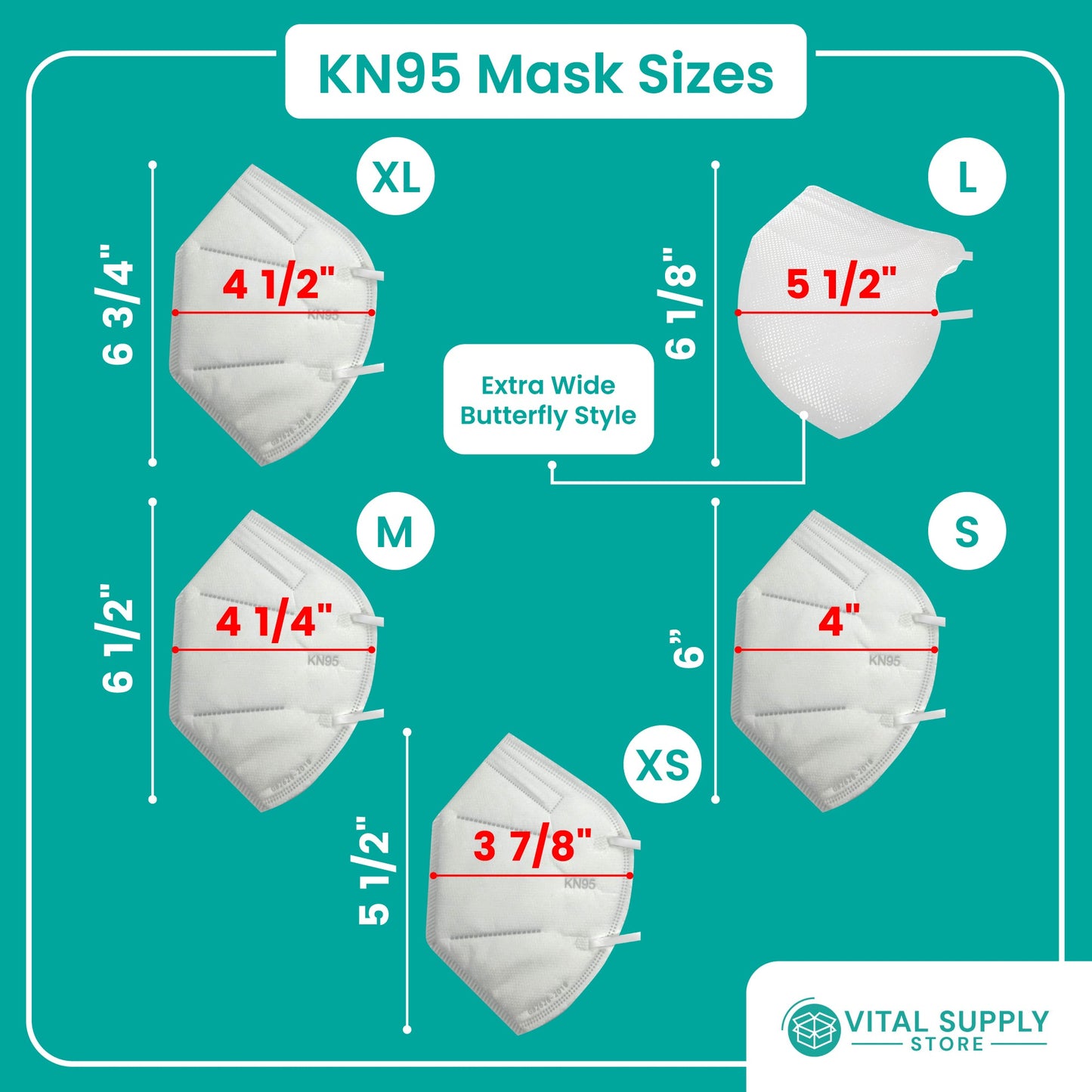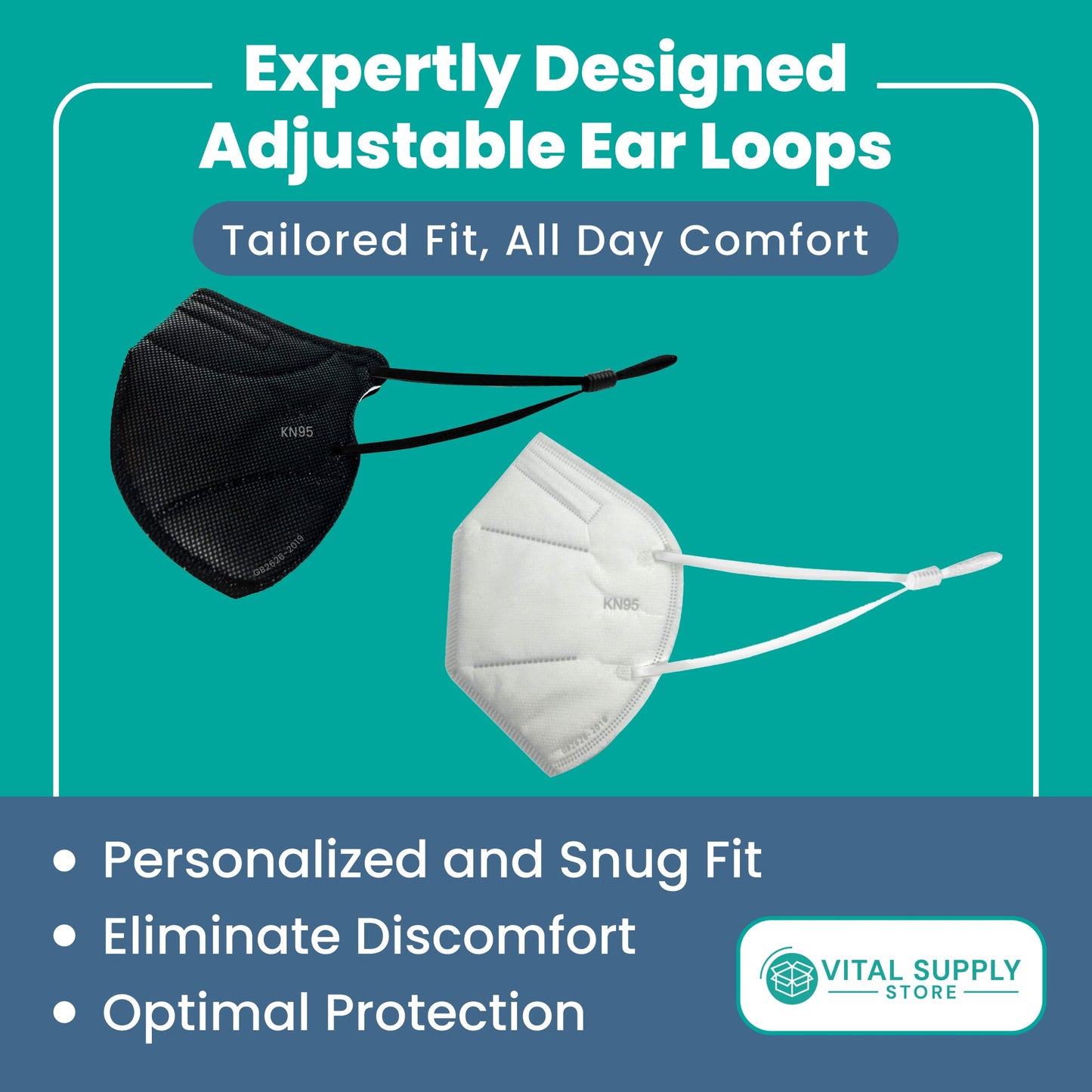 10 Reasons Why Vital Supply Has The Best Kn95 Masks:
PERFORMANCE: Our masks achieve 99% filtration performance AND have an industry leading breathability rating.

QUALITY: Constructed of 5 layers of high-quality material, our masks will hold up in any environment.

FIT: This is our specialty. Vital Supply is the first company to create face masks in 5 different sizes. Masks should not be a one size fits all solution!

COMFORT: Our masks will not pull your ears or make it hard to breathe.

CUSTOMIZATION: With many different sizes, you will find a mask that will meet your needs.

FDA REGISTERED FACTORY: Our masks come from an FDA registered factory.

LAB TESTED: All of our masks are sent to a certified USA based laboratory for testing.

MONEY BACK Guarantee: We offer a no questions asked refund promise.

FAST SHIPPING: All orders ship within 1 business day.

USA BASED Company: Located in Arizona employing American workers.
Over 500,000 Happy Customers!
Customer Reviews
Write a Review
Ask a Question
06/08/2023
Kelly V.

United States
Love the adjustable ear loops
I will never go back to wearing masks WITHOUT the adjustable ear loops option. I love being able to adjust the fit to my exact preference. Sometimes I like a tighter seal around my face, and sometimes I like the mask to be a little less tight if I an outside and not super close to people. It is great having the ability to adjust the fit and comfort.